Eurotrip 2016 – Part 3 – Aix-en-Provence, France
Posted by brose
Oct 29
Moving at impressive speeds, the French TGV train got us from Lyon to Aix-en-Provence in only 1h30 with a single stop between. Arriving at our most recent destination, we found that the information desk with 4 workers was empty, providing a perfect opportunity to make our next set of travel reservations. We needed seats from Aix-en-Provence to Bordeaux, and from Bordeaux to Paris. Looking at our hotel check-out times, we selected which trains we would take and locked down two adjacent seats for the Aix-en-Provence to Bordeaux trip. However, still a week away, the TGV between Bordeaux and Paris that we wanted was already booked solid. Alas, not all was lost, the train 1 hour earlier had seats available. We snatched them up and patted ourselves on the backs for being so proactive.
Outside the train station, we ordered an Uber as there was no simple bus route to our hotel and it was too far to walk. Uber also beats the pants off taxi pricing, and as a bonus you provide up front both your pickup and destination addresses, so you don't really need to communicate with the driver through a language barrier. After a painless pickup and a 20-minute 30-Euro ride later, we were at our hotel. And what a hotel we were at…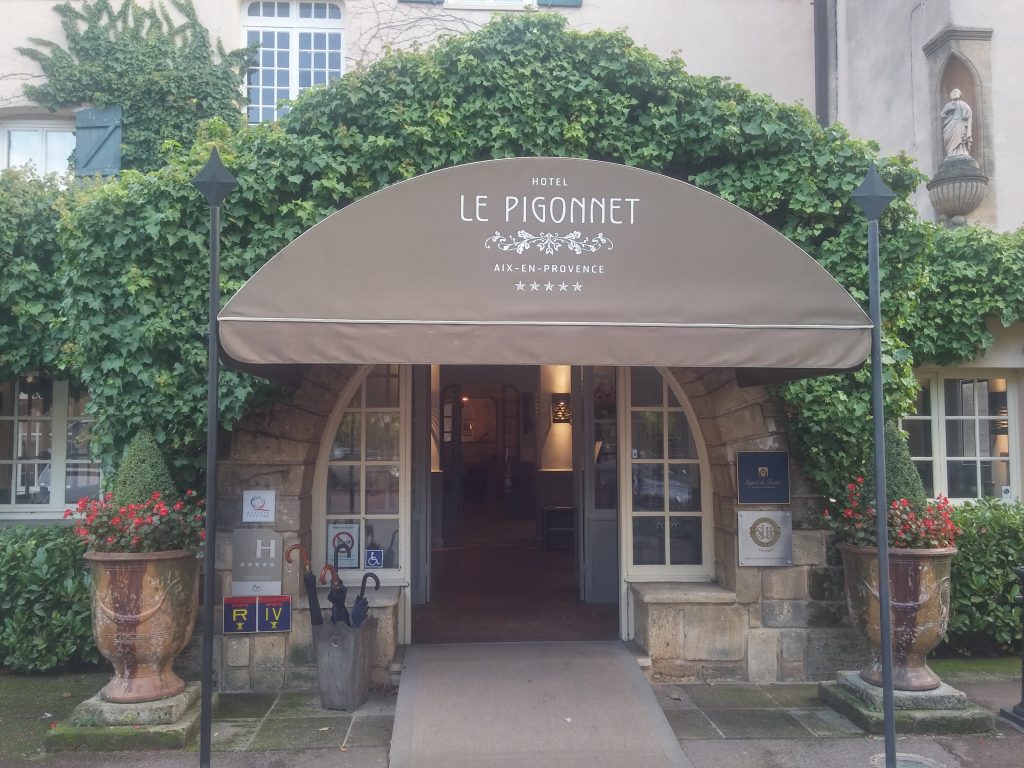 Yes, they earned all the stars. And at check-in we realized that usually comes with a price. We had booked a "superior" room for our time here through hotels.com for $189/night, but the front-desk listed the normal price at a whopping 365 Euros/night (at the time of this writing, 1 Euro = 1.10 USD). The room is gigantic, with a closet in an entryway, a large bed space with a queen mattress, and a private bath with both a Jacuzzi tub and independent shower stall. And that is only just the beginning, walk outside and you can enjoy the same gardens that Cezanne himself loved strolling about, admiring while accompanied by his easel and paint.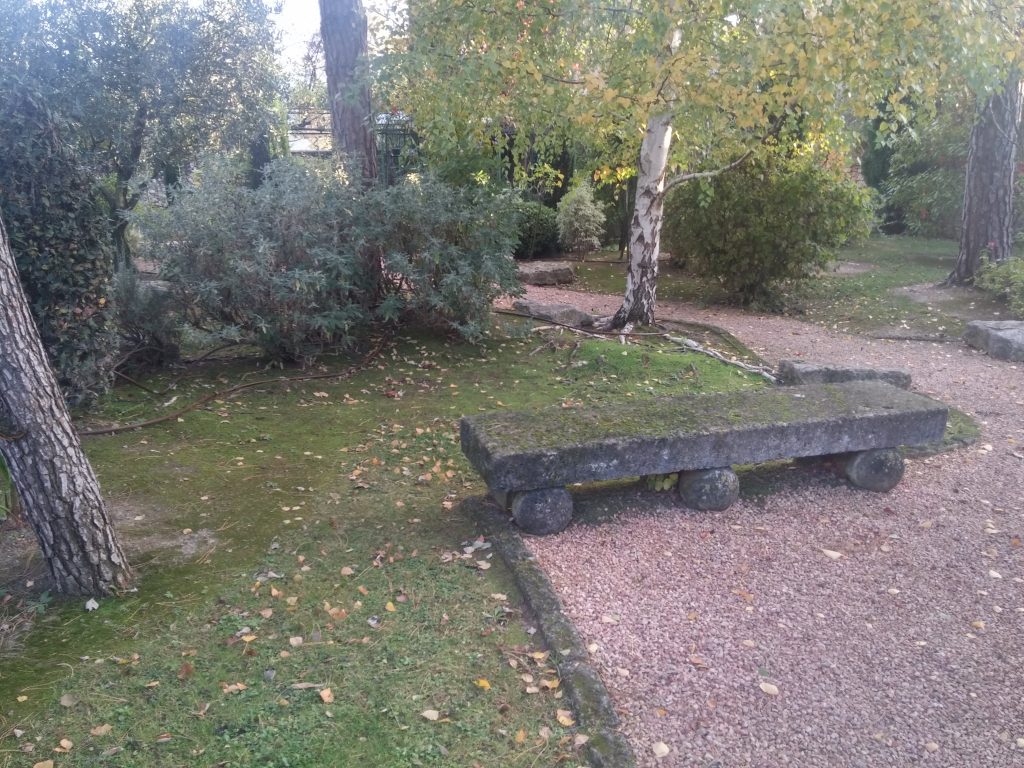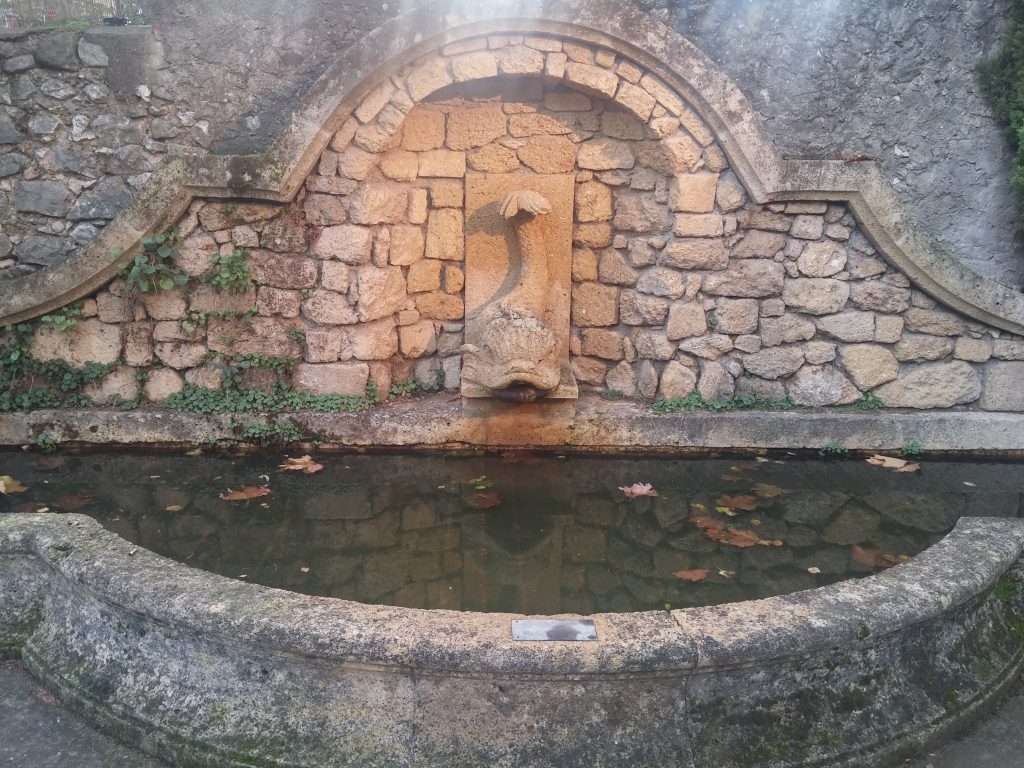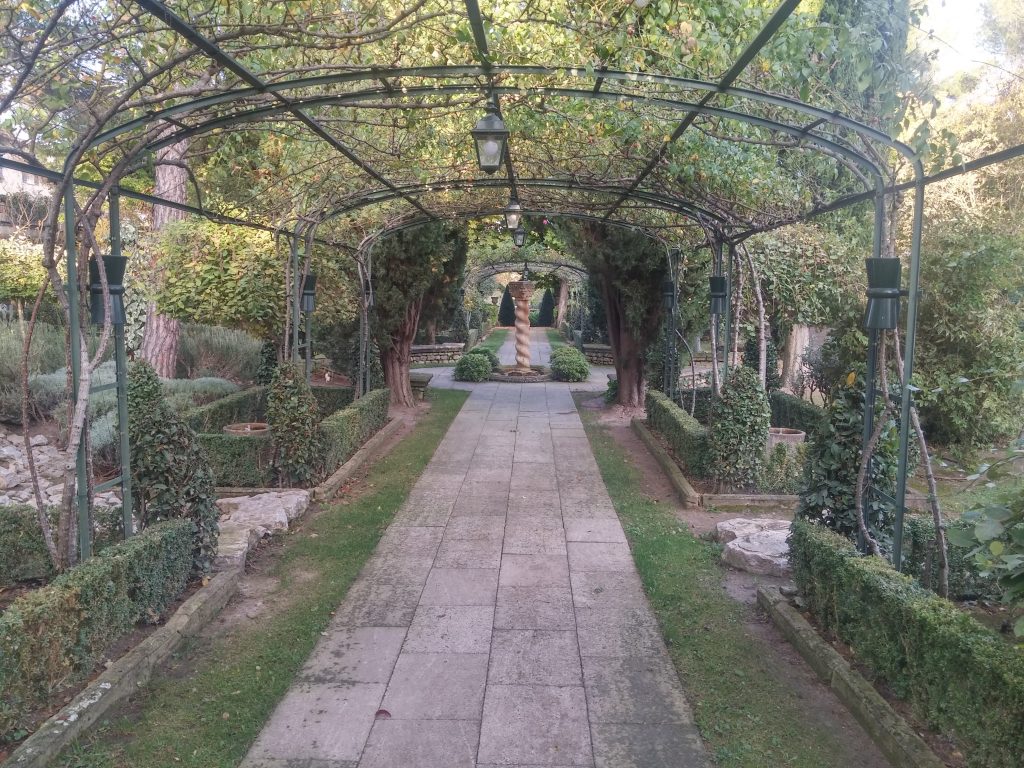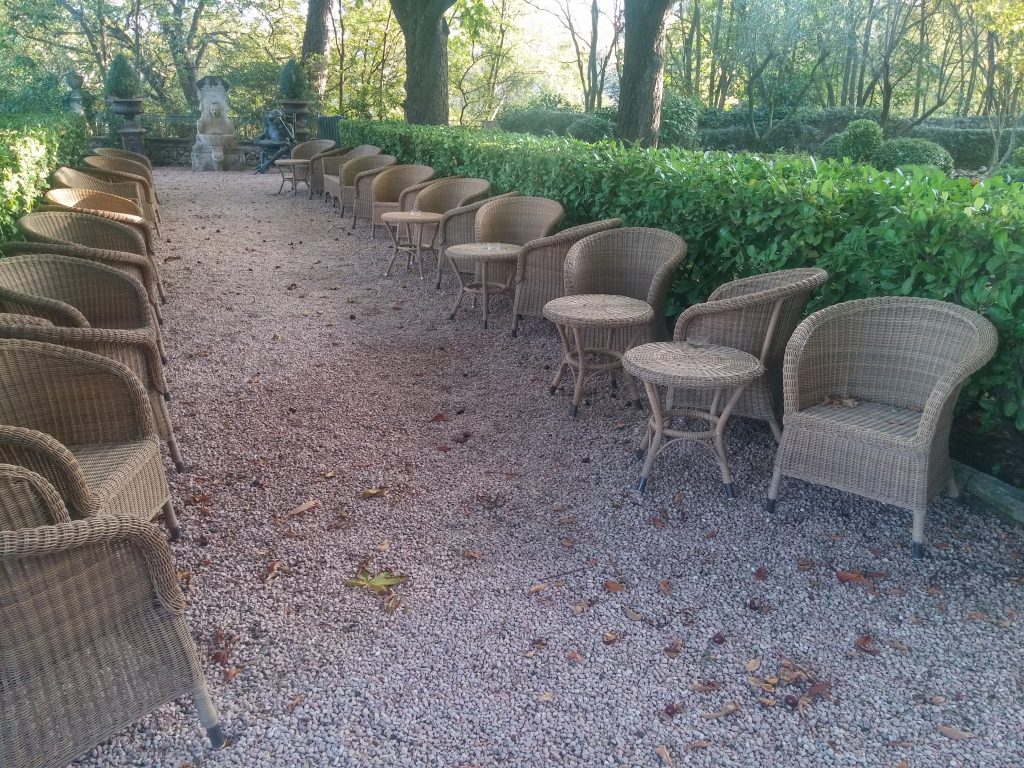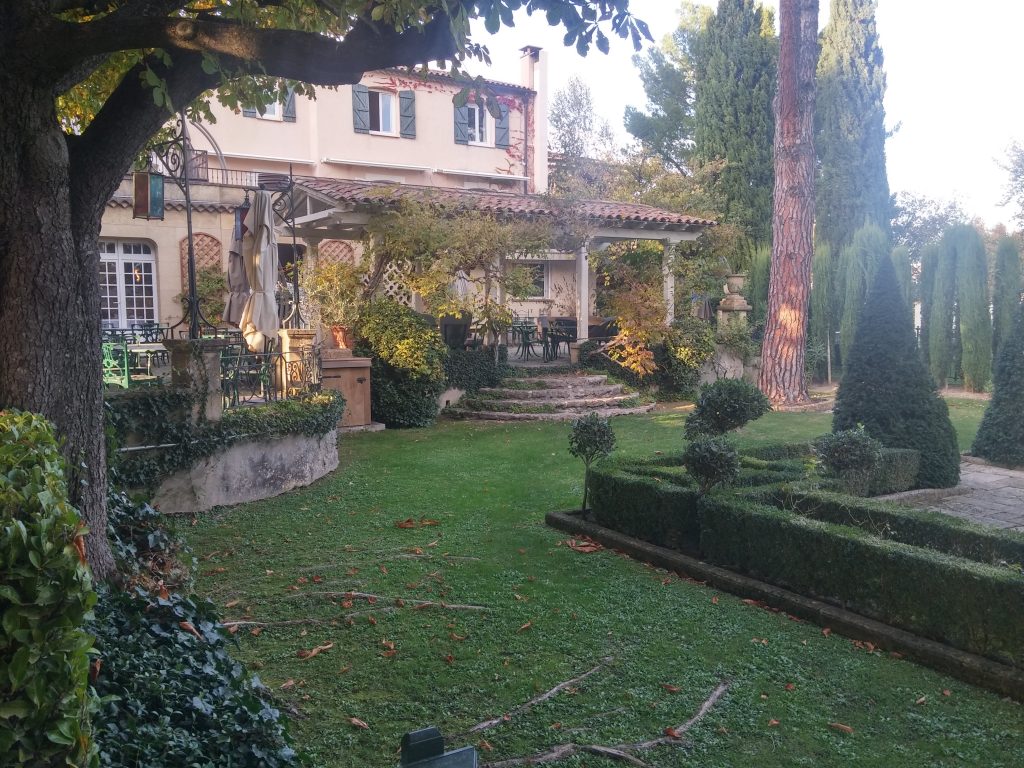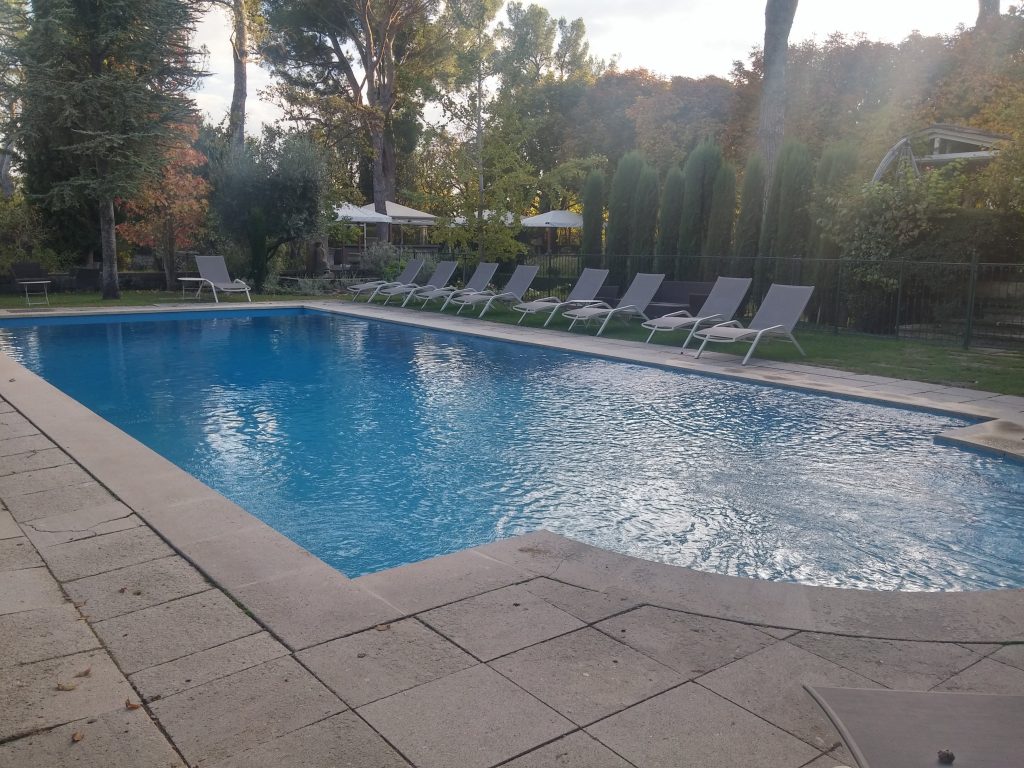 The interior was just as fine, but we'd have more time to explore that later, there was still some sunlight available for us outside. Heading off of the property and towards Central Ville, Aix-en-Provence's "main drag", we stopped at a few different stores and eateries, eventually having a lovely dinner on the edge of town. We went into town only a bit before it was dark, and picked up some wine along our way. We noticed a pattern, just about every intersection was a circle, and just about every circle has some sort of fountain or intricate work of art in the center. No wonder Cezanne called this place home.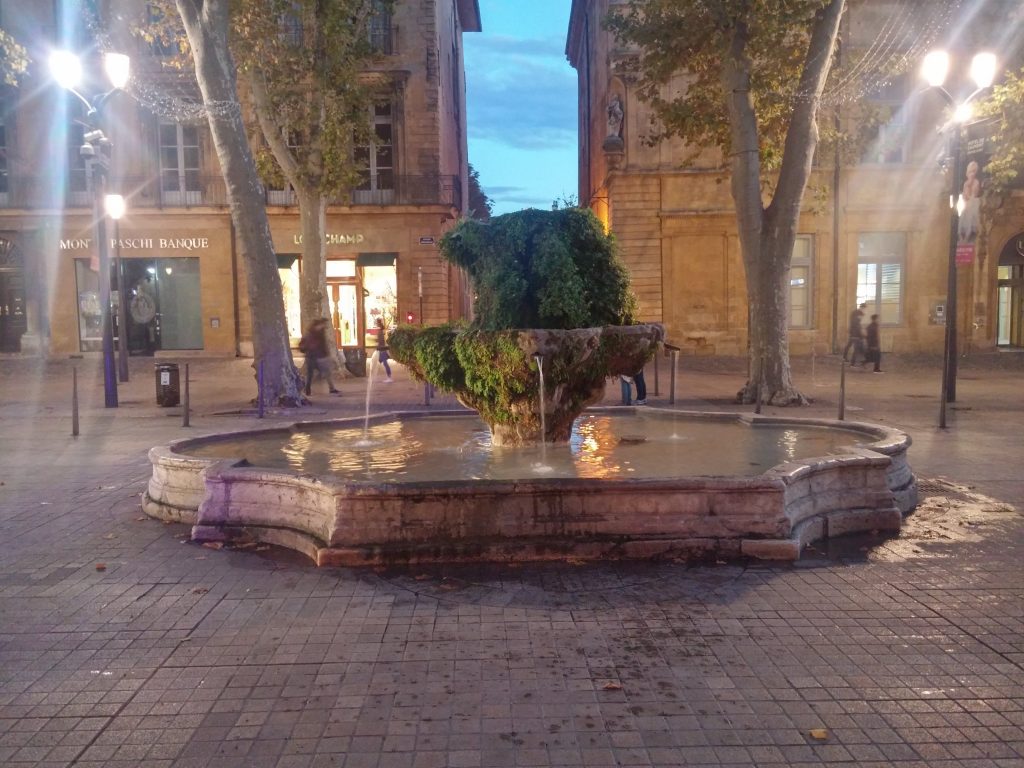 We walked back to the hotel to retire for the night, stopping along the way to check out the Aix-en-Provence train station. You see, while we arrived into Aix via the TGV, that station is completely separate and a 20-minute car ride away. The station from which we will eventually depart towards Bordeaux is right in town, a 15-minute walk from the hotel. This is also the station we will use if we decide to visit other nearby towns, such as Marseille, in the next day or two. Hurrah for being proactive!
While walking back, another fact of Aix-en-Provence became abundantly clear, this is definitely a college town. With 75%+ of people walking around a similar age as us, the city has a very lively night life, with bars and brasseries overflowing with people and conversations into the streets. We found this to be good news, we could explore other areas during the daylight hours, and still feel comfortable walking around town late at night. Finally back at the hotel, we opened up the cremant we had picked up, and discussed tomorrow's plans before hitting the hay.
---
We had decided that today's journey would be to Marseille. We departed the hotel after some espressos (free with the room), and headed down to the village train station. We paid for a rail ticket, and boarded shortly after. About a half hour later, we arrived at a train station that very closely resembles those one finds in New Jersey.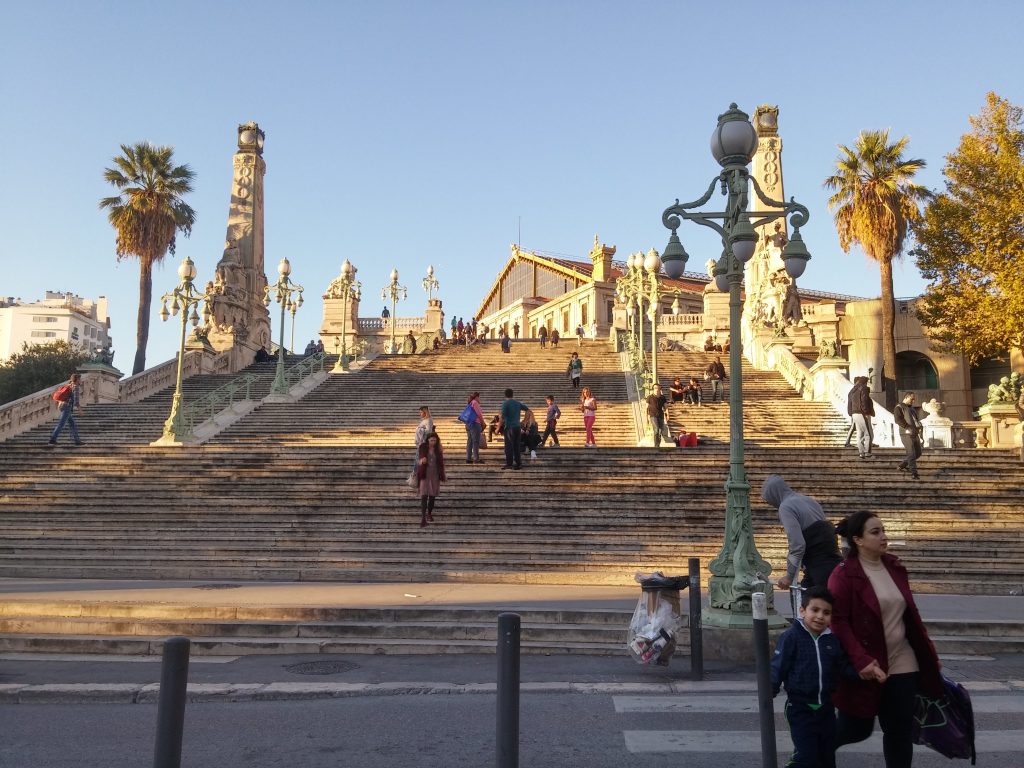 It was warm and sunny on the coast, not a cloud in sight. Our phones reported 70 degrees, but to us it felt more like mid-80's. We set off for Port Vieux (old port), down by the water. Along the way we saw what looked like a large cathedral in the very distance.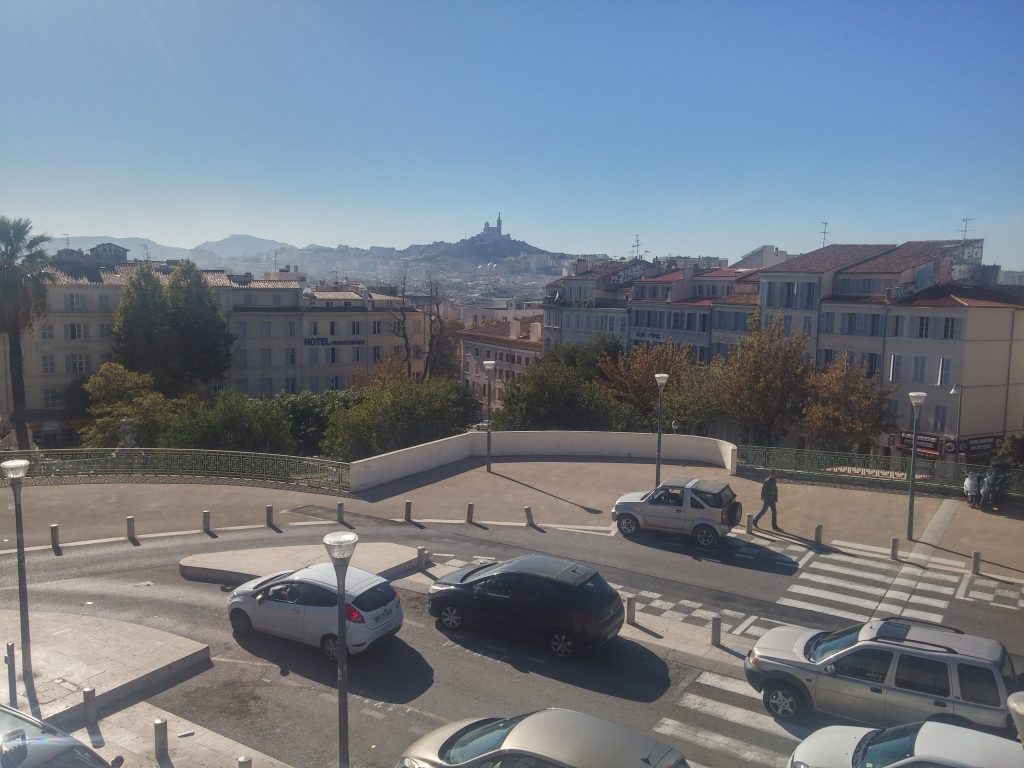 We thought to ourselves, "that's probably very pretty with excellent views, but it's too far away to walk." We'll revisit that. There were tons of quintessentially French structures along the route to the old port.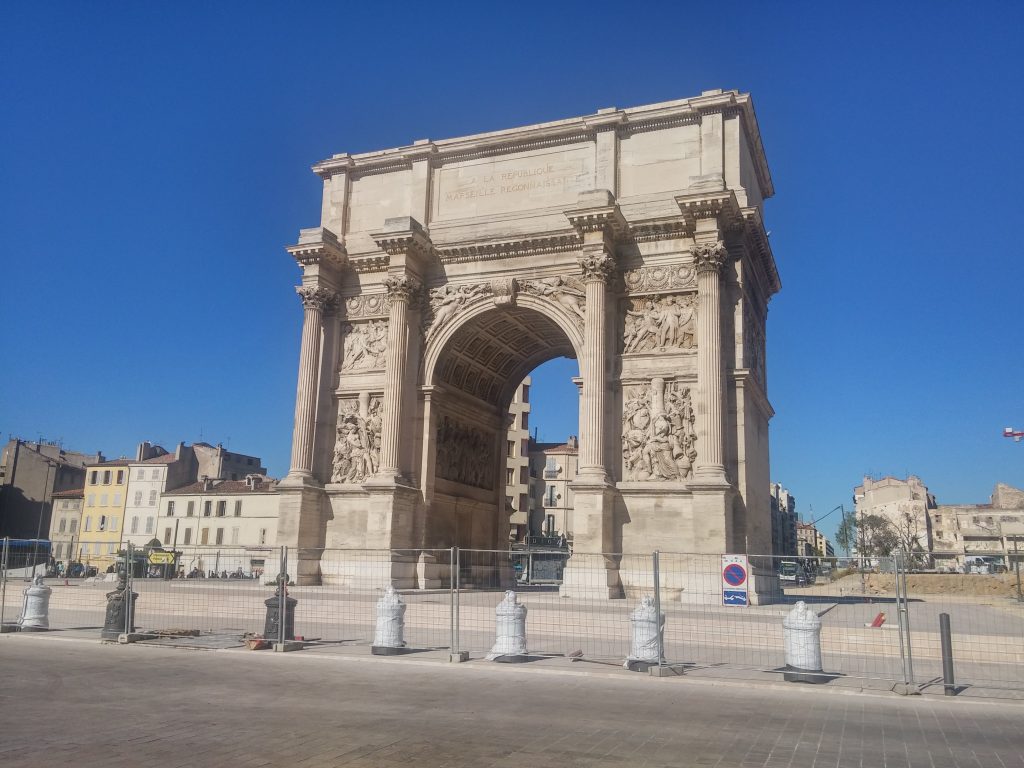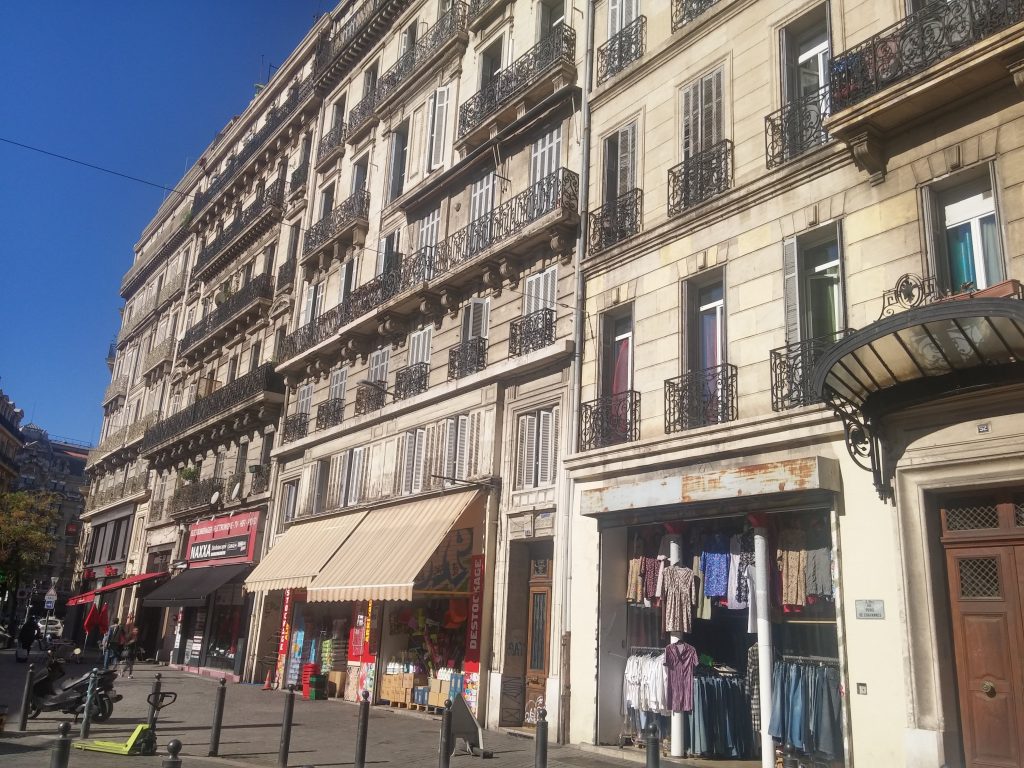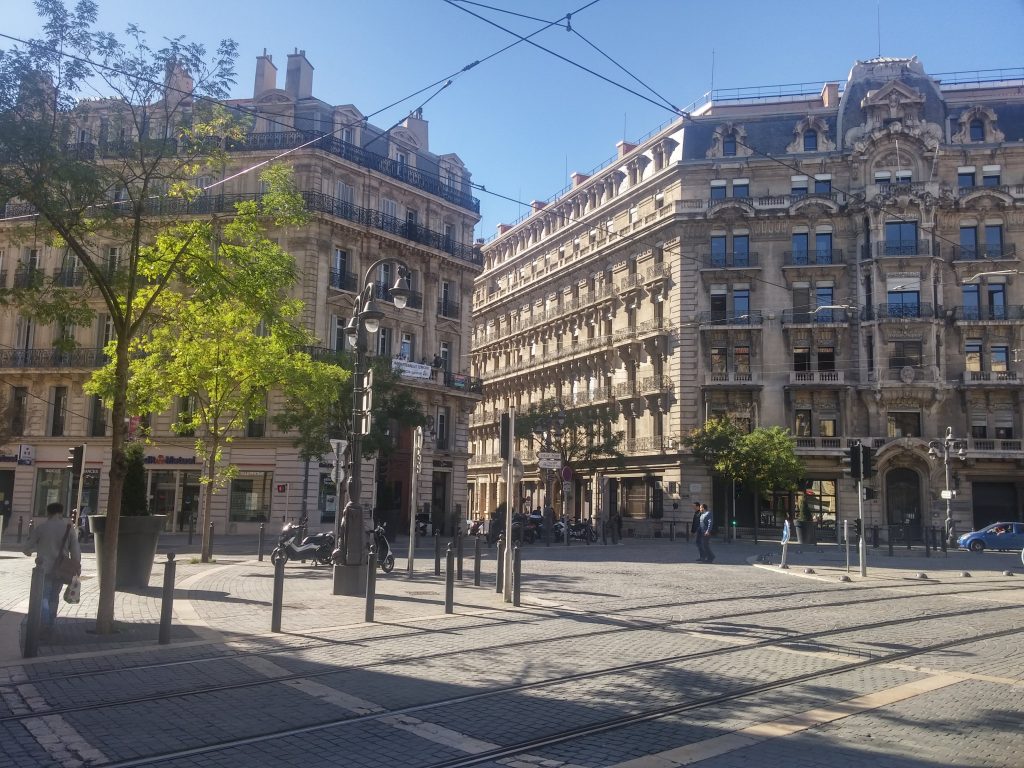 Nearing the water, it was afternoon, so we decided to find food before everywhere closed for the afternoon and didn't reopen until 7pm. We found the cutest restaurant run by only two people, we imagined them as husband (cook) and wife (runner). Cait had a duck dish in fig sauce, while I got a faux-filet – the French term for a sirloin steak – which came with a delicious cream peppercorn sauce. While we ate, at least 3 people came through playing the accordion for tips. How delightfully French!
After paying l'addition and leaving, it was only a couple of minutes before we arrived at the water of the old port.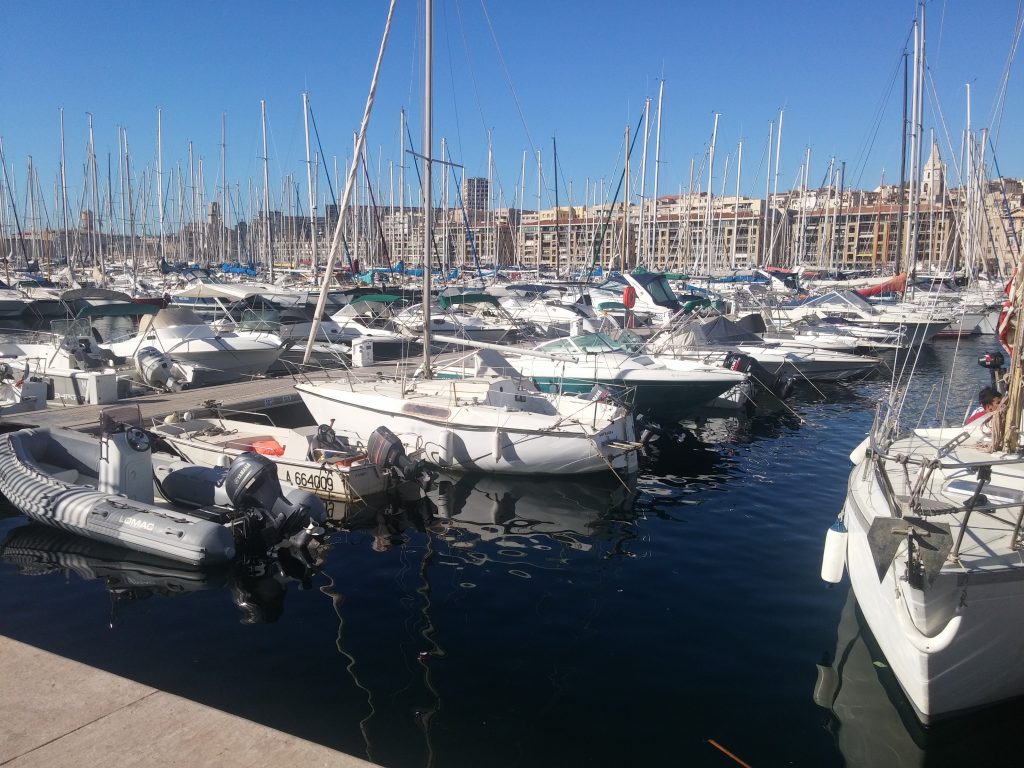 This turned out to be apparently a very popular area.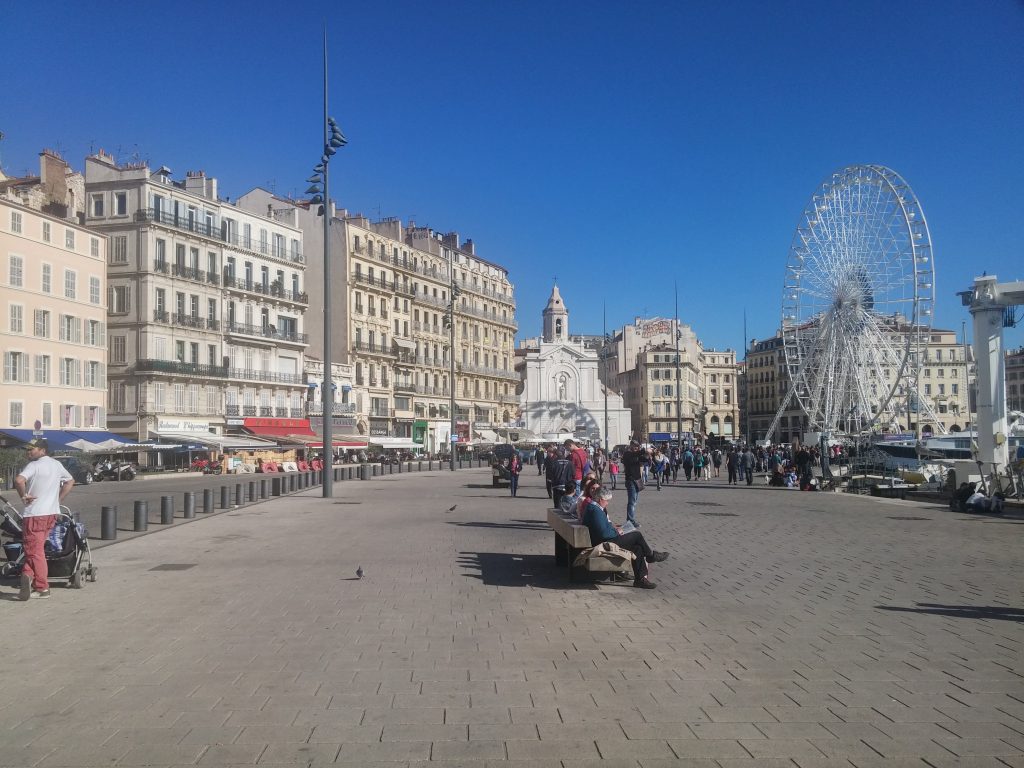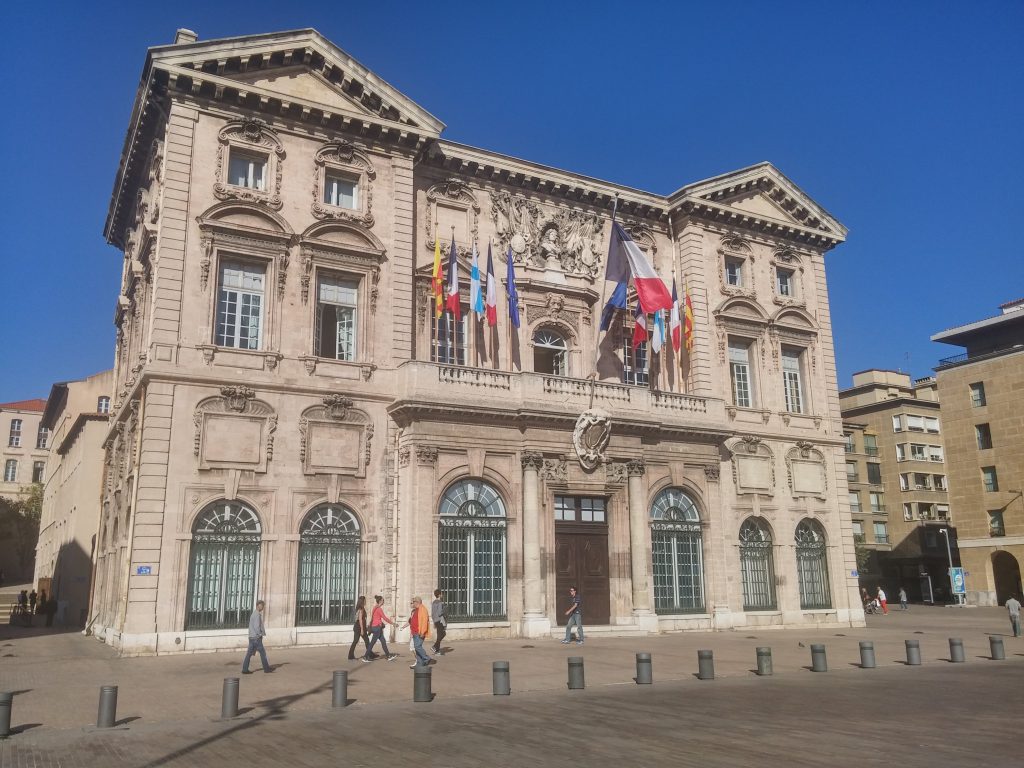 On the other side of the old port now, we decided to cut in a few streets and start to walk back. Along the way we found a pomegranate tree with a fruit low enough that I could grab it with a running jump. Nature provided an excellent tangy dessert.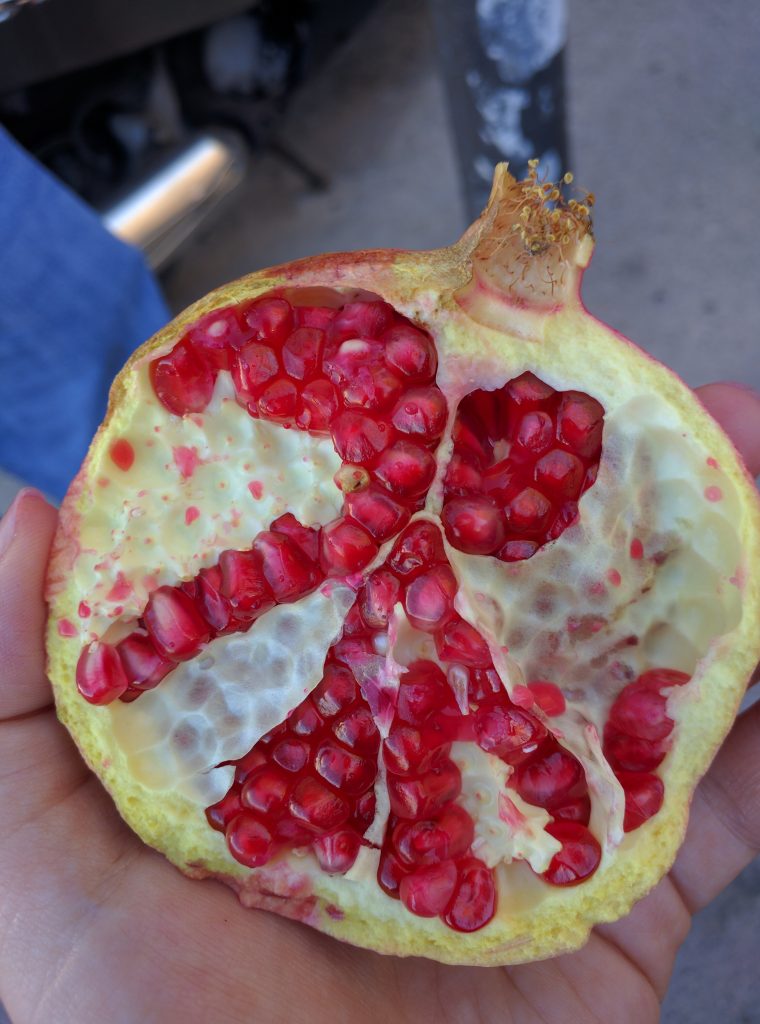 It wasn't too long before we were atop a small hill, and looking back at the old port, the views were becoming impressive.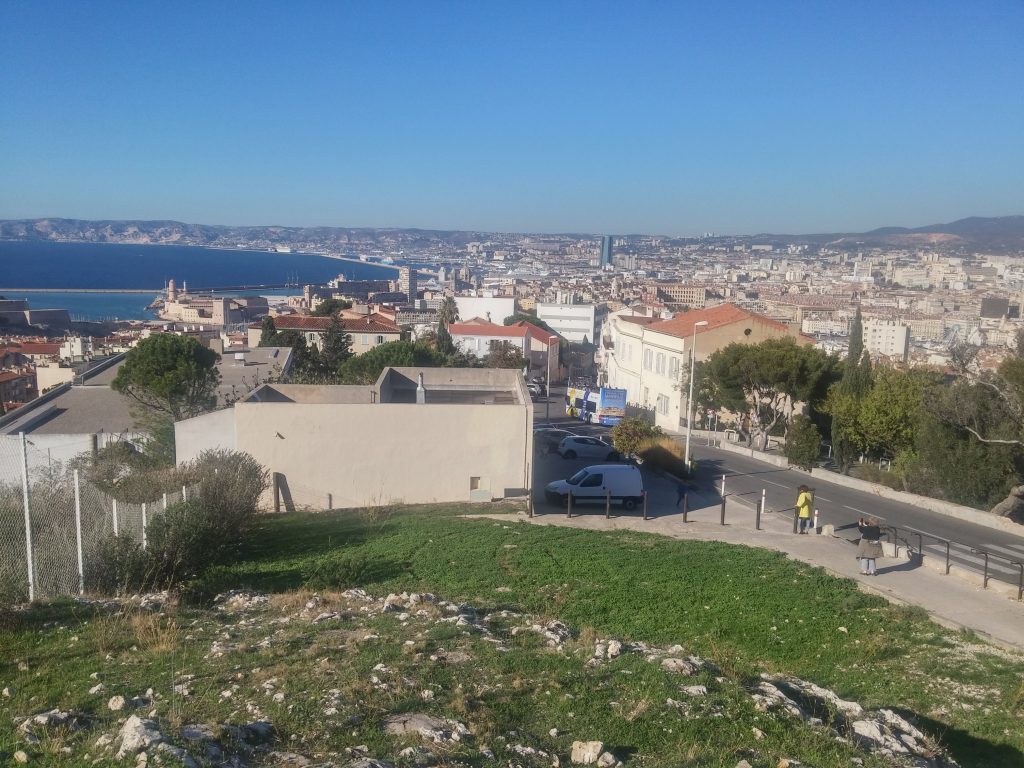 Turning around, there was a set of steep stairs as the hill continued up, we decided we couldn't turn back now, we had to see what was at the top. As we went, we soon realized the cathedral we saw earlier was at the top, and we were more than halfway there already. No turning back now!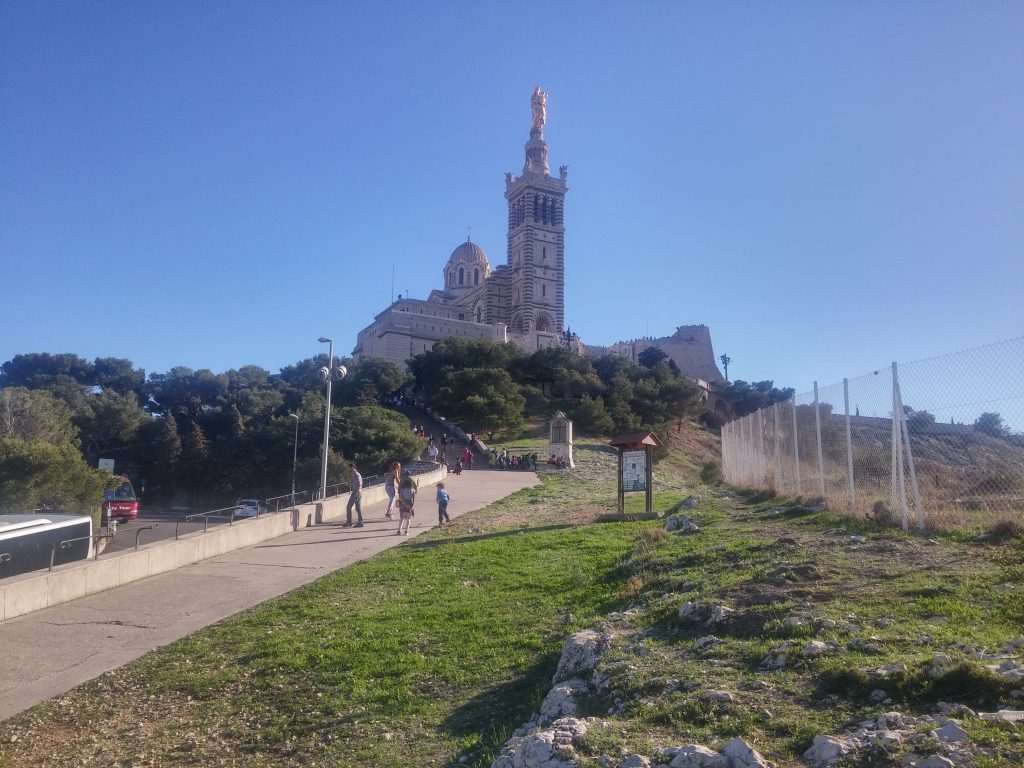 Onward and upward we climbed in the sun & heat, until finally we made it to the top.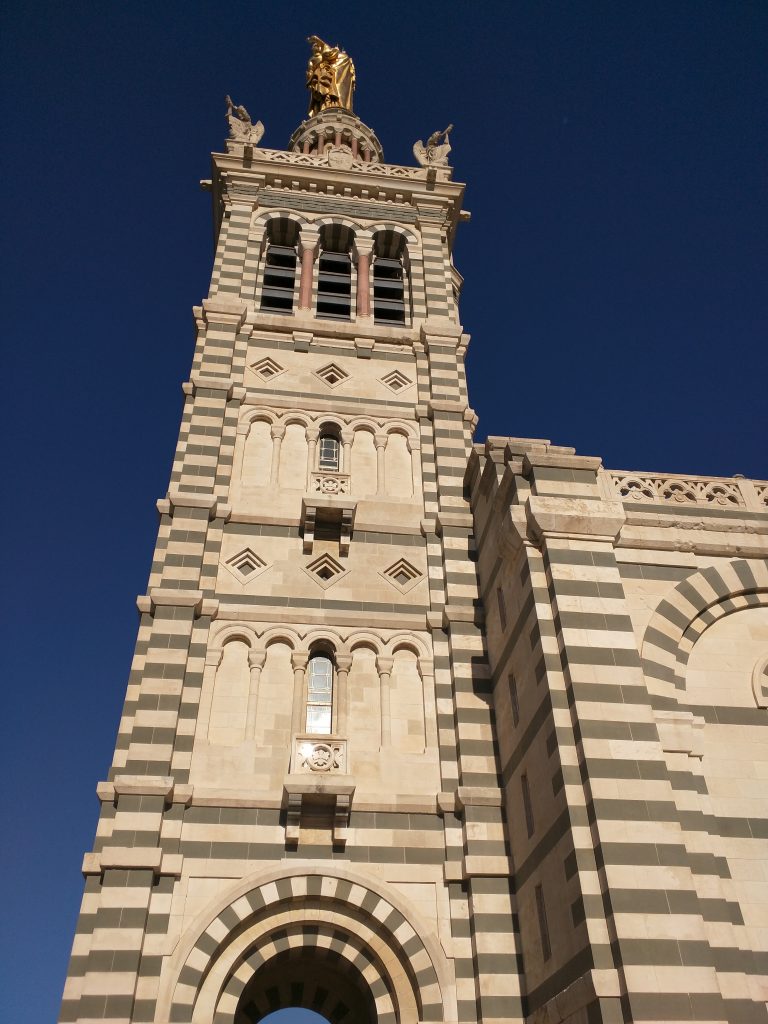 It was all suddenly so worth it.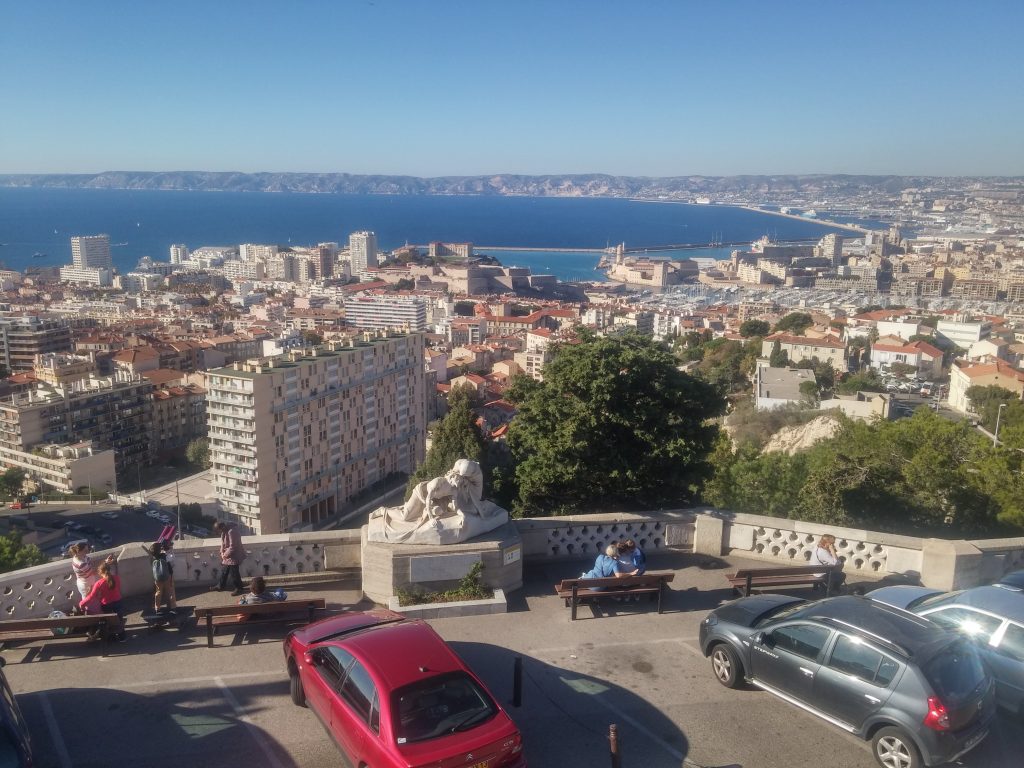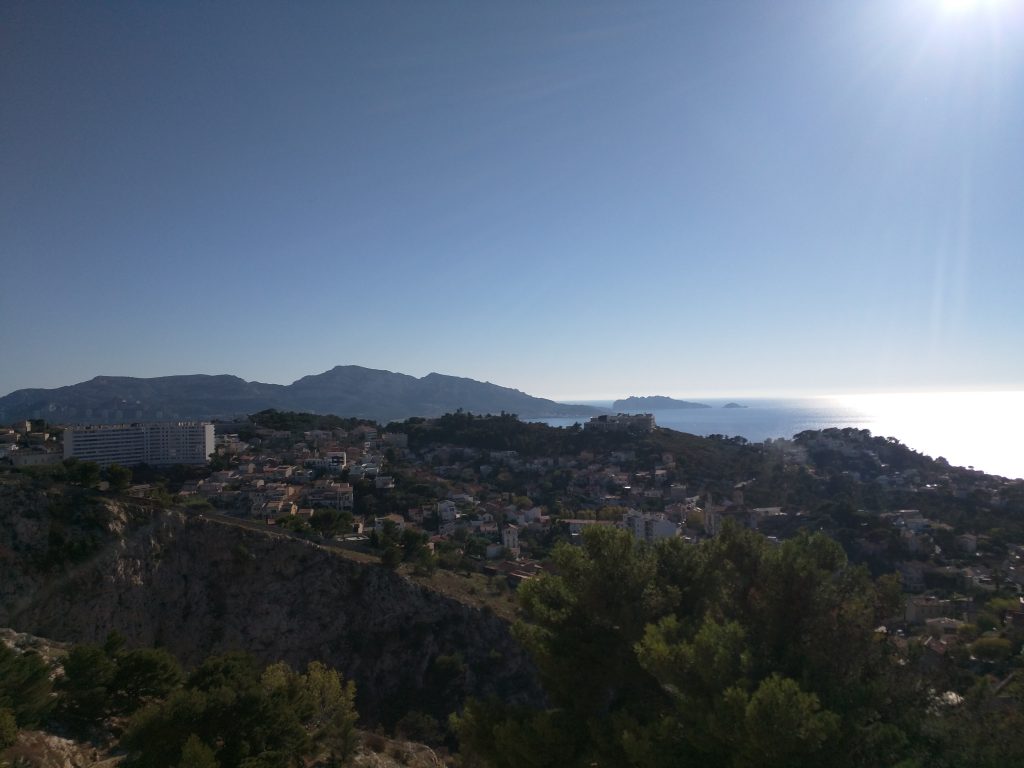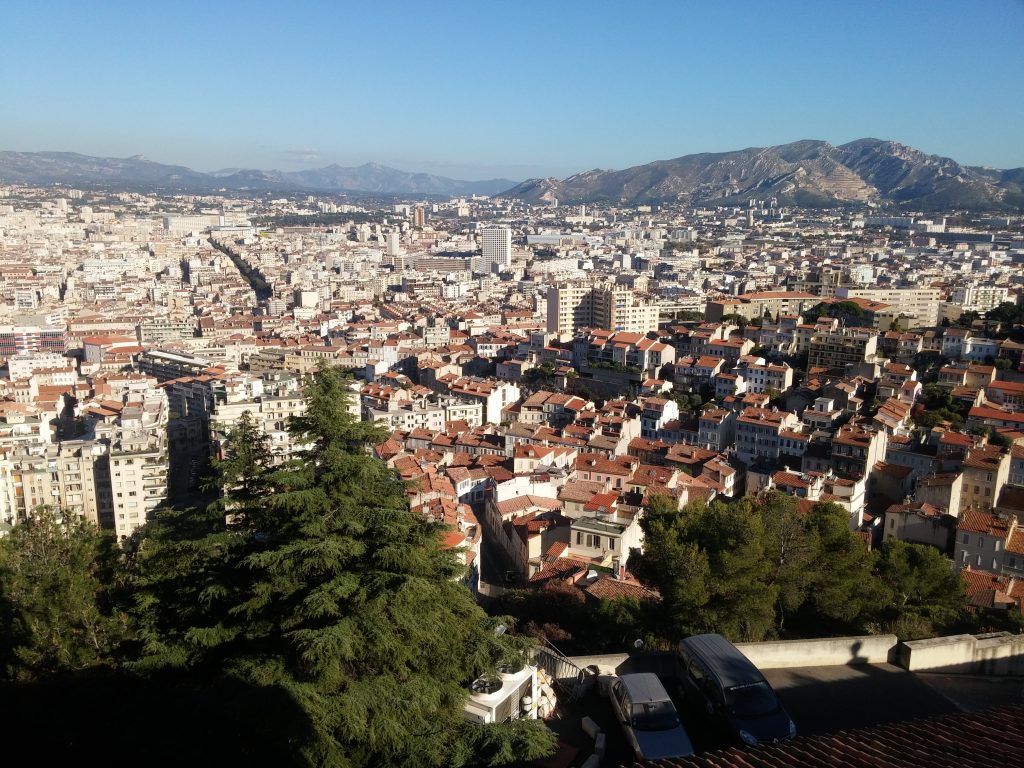 The inside of the cathedral was almost as impressive as the view outside it, and on par with fourviere in Lyon.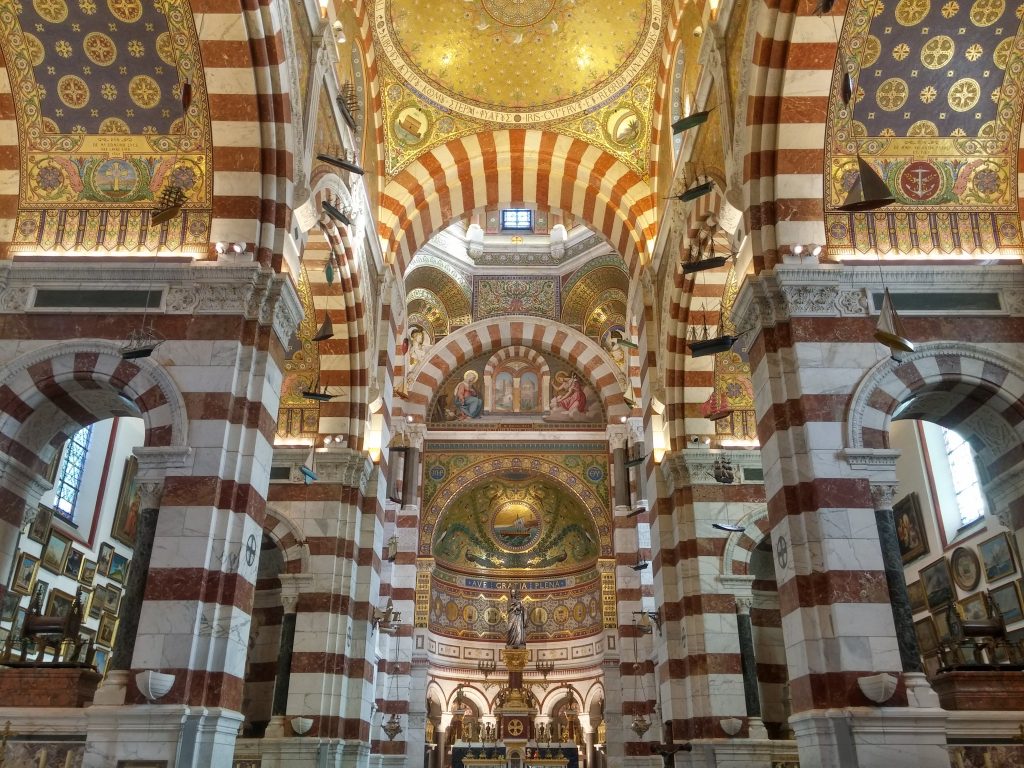 We stayed atop admiring the views for a while longer, then decided to make our way back down the hill via a different path, no use in trudging the same ground twice while exploring.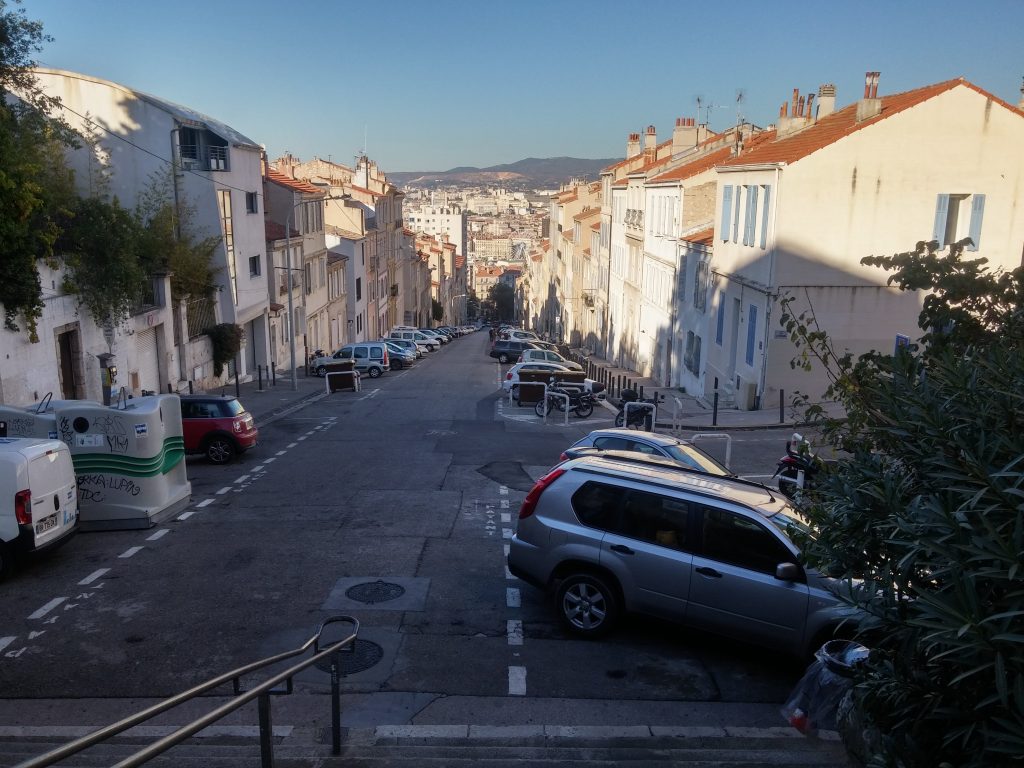 We walked around the old port for a while longer, but as the sun was setting, we headed back to the train station to get back to our hotel. Once returned, we made reservations at the hotel restaurant. There we enjoyed a lovely meal fitting for a 5-star hotel, with Cait having a "suckling pig" stuffed with quinoa, and a filet for myself (hey – don't judge – I've been looking forward to French steak-frites for a long time before this trip!) A Latin Jazz band played as we ate, next to a crackling fireplace.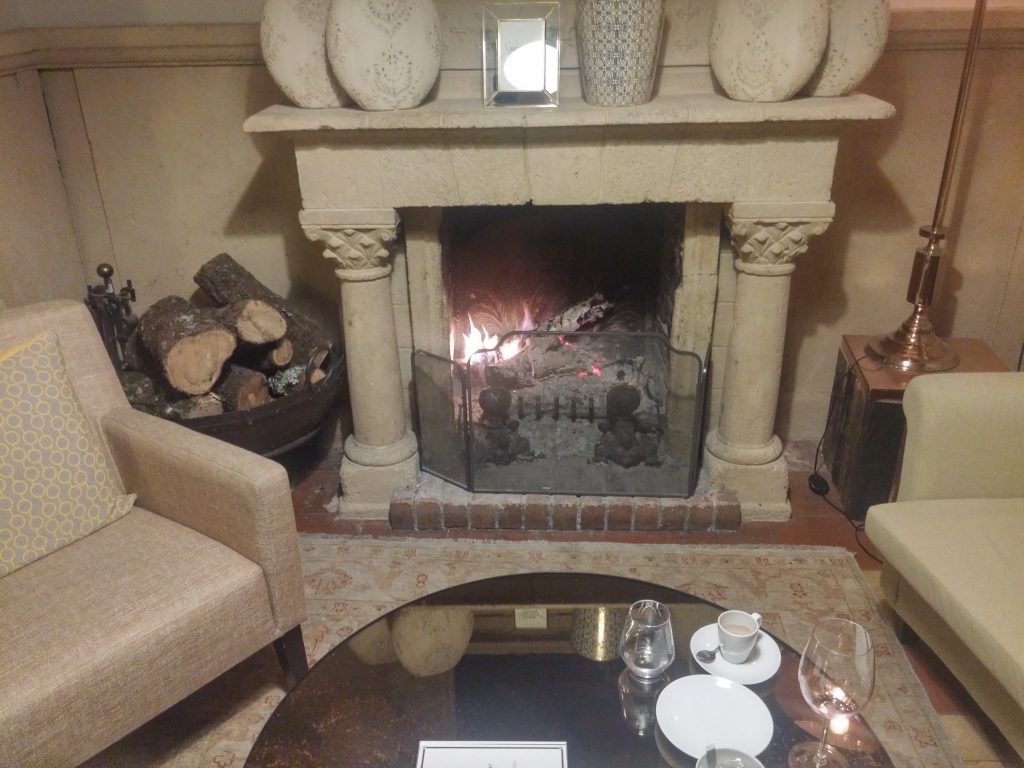 I observed hotel staff restock the firewood at one point, bringing in the wood on a literal silver platter, just like we all do at home. After dinner, we visited the hotel bar, where for the first time in my life, I purchased a cigar (Cuban of course) with a glass of Havana Rum. We sat outside and puffed away on it, until at last it was far too late for us and we returned to the room to shower up before bed, lest we smell like smoke for the rest of the trip.
---
For the title of this visit to be Aix-en-Provence, we didn't spend the majority of our days in this town. Today, we set our sights on Cassis. Catching the train and transferring at Marseille to another line, about 2 hours after we set out from the hotel, we were there… almost. The fastest walking route from the train station to the town center was about 45 minutes. But as ever eager adventurers, I plotted a different course away from main roads that took us through farmland and a forest.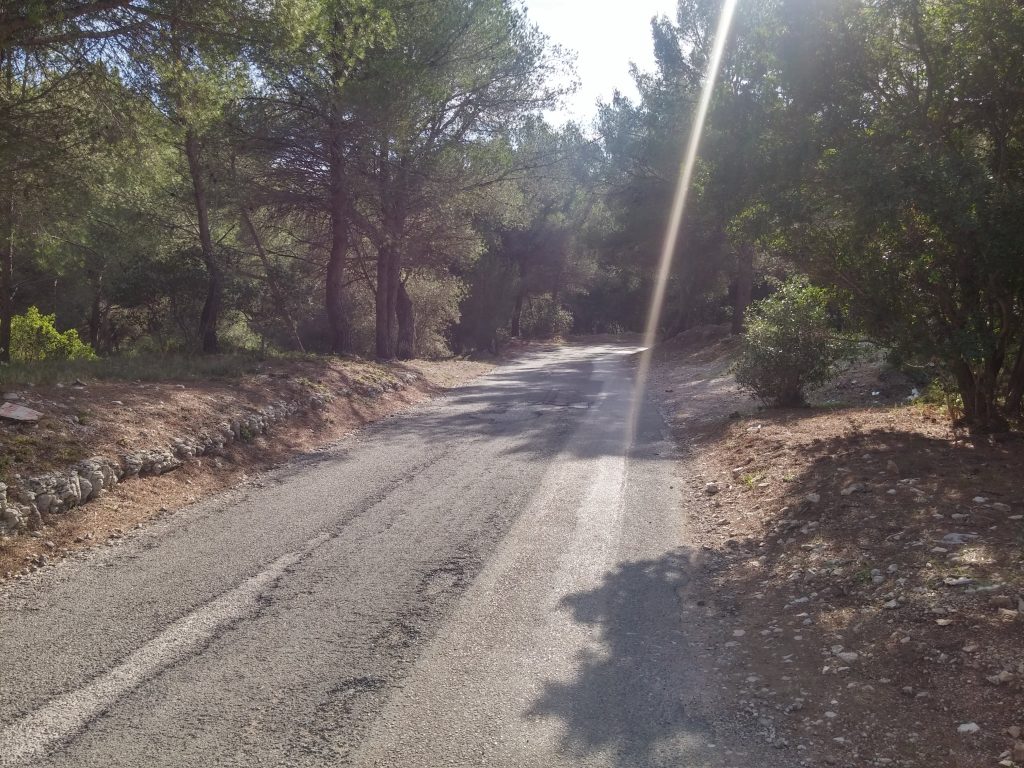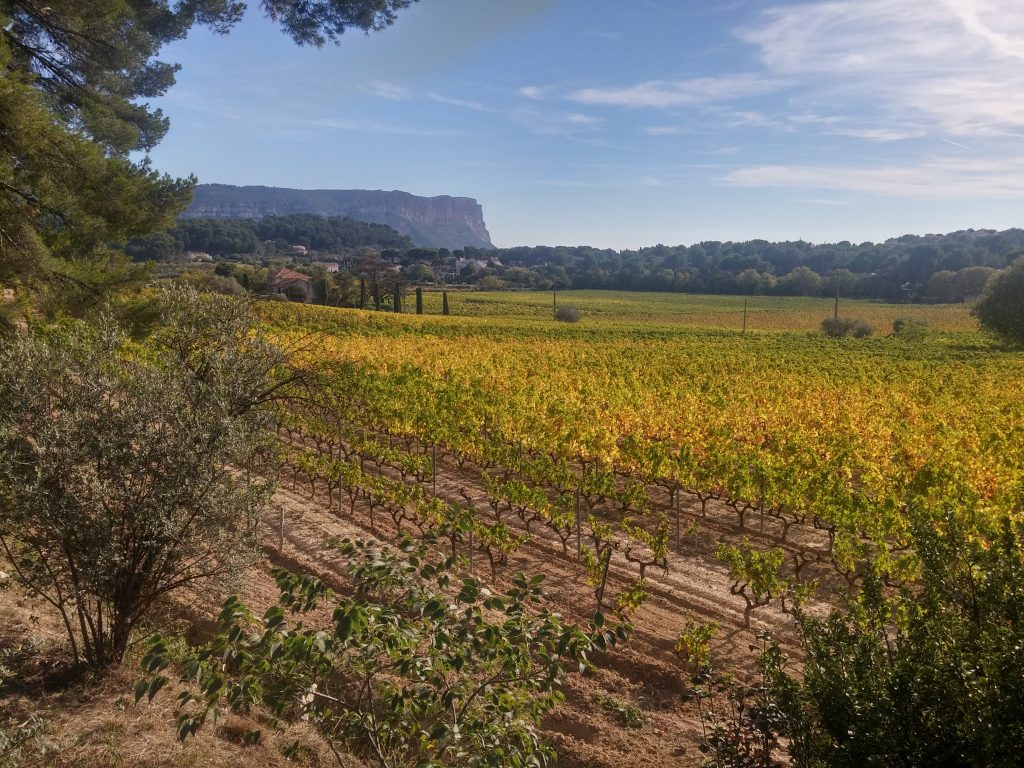 Eventually, we found the town, and came down a path probably only frequented by the locals.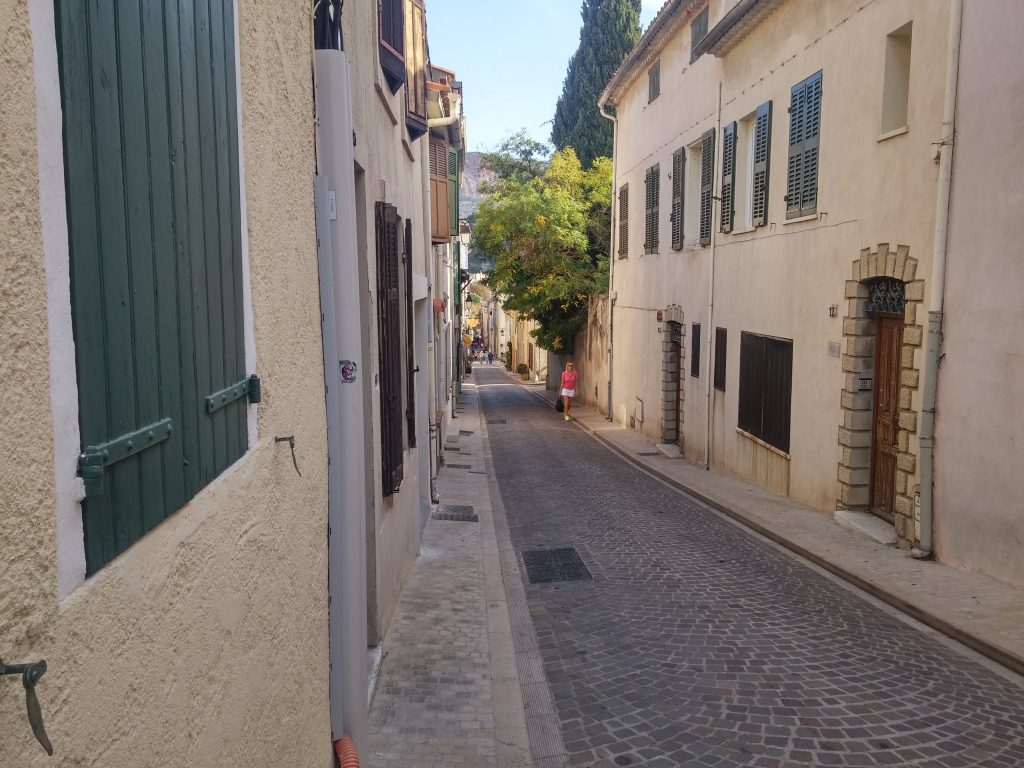 Et viola, we had arrived in Cassis!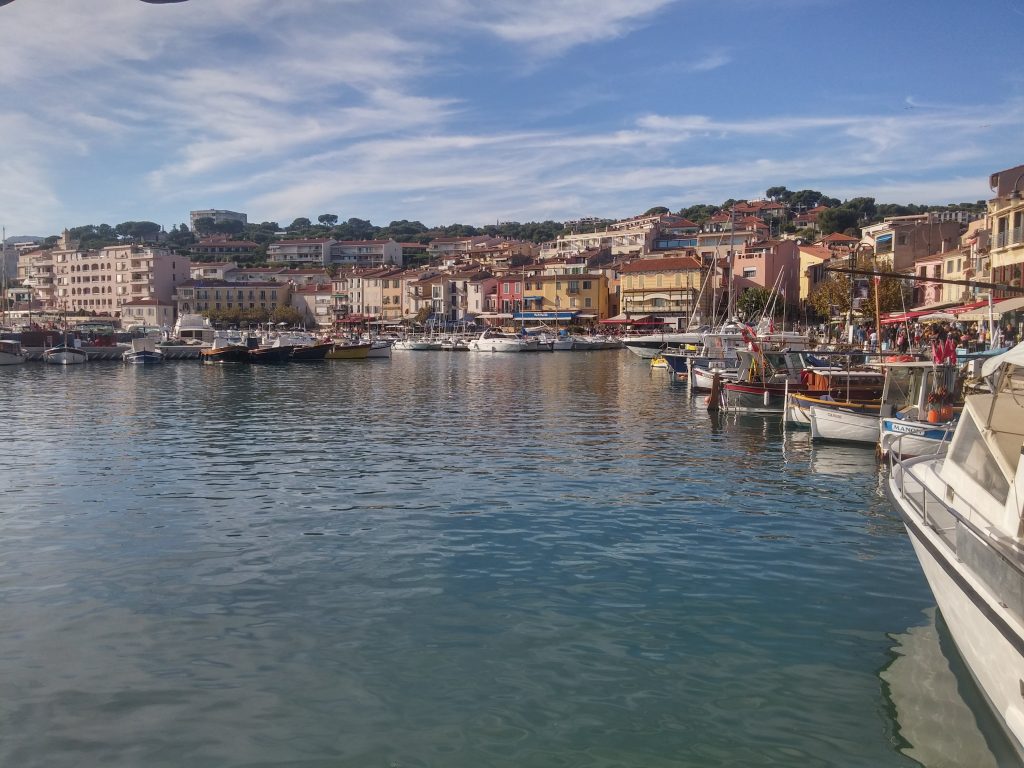 We walked along the coastline, while many people bathed in the sea. The weather was absolutely splendid, still sunny and 70's, and the water was quite warm to the touch.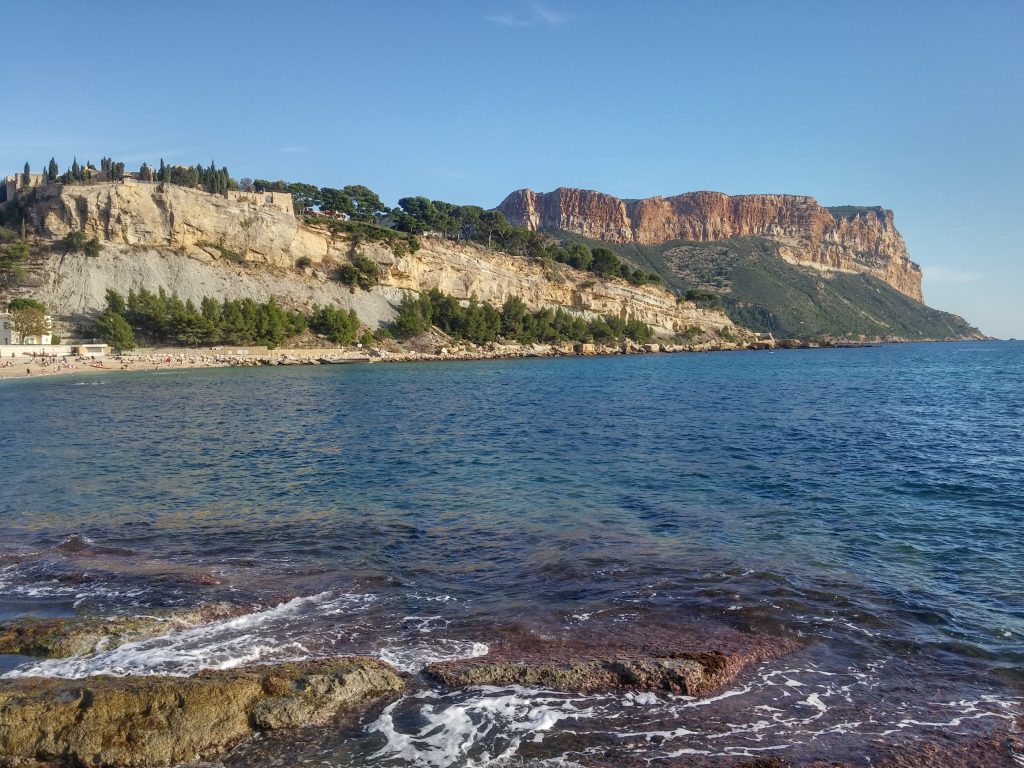 All along the water's edge sat bars and restaurants. We checked the hours, and as is typical in most of France so far, the majority of places are closed between approximately 3pm and 7pm. Looking at the train schedule for the Cassis station that was still a 45-minute walk away, the last train home would leave right at 10pm. So we decided if we found an eatery that would open back up at 7pm, we could take 2 hours to eat here and then climb back up the hill to get back home, with a little extra time just in case we were to take a wrong turn somewhere.
However, it was only 5pm, and after exploring all of the rather small town, we settled on a small bar that had local wines and half-bottles of champagne. While we were there, the sun started to set, and provided us with beautiful images I'll remember forever.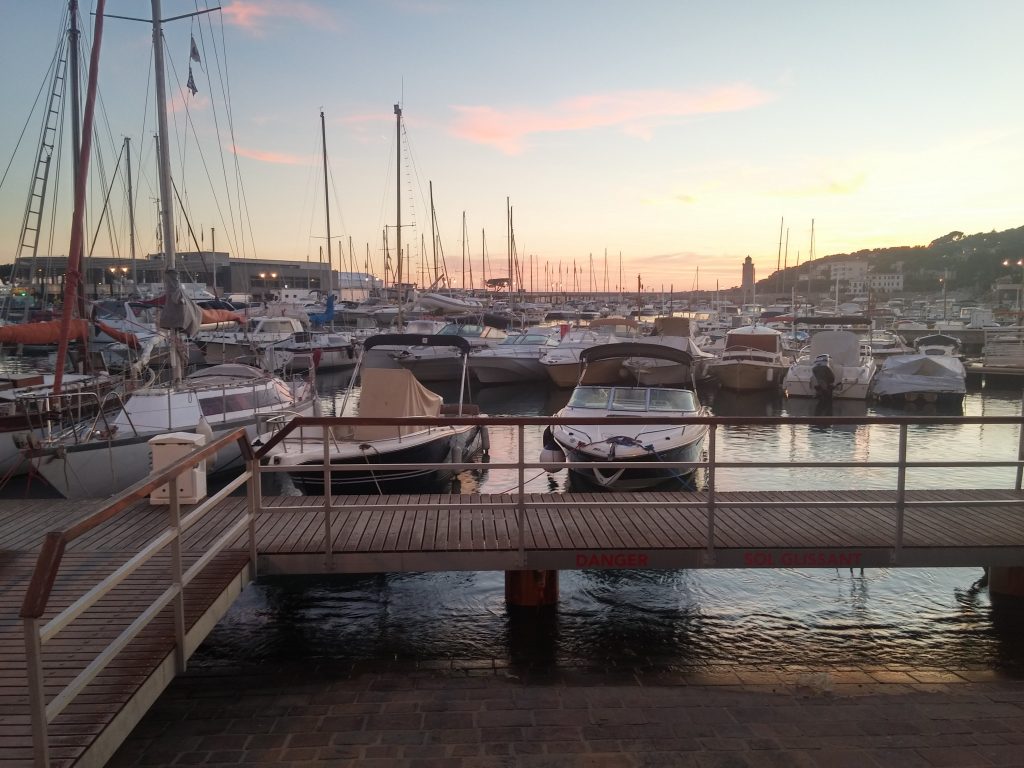 …and the real star of the gallery…

While sitting there enjoying the sunset, a couple interesting occurrences transpired. First, a younger couple started making out sitting next to an older couple who couldn't have cared less. Not the first time we've seen this in France, and we reflected back to dinner in Colmar with the Swiss couple telling us about visiting America. You see, they'd found a hot spring, and as such, disrobed and jumped in, only to be chased out and yelled at when happened upon. They also recalled going to the beach with a beer, and being told it was not acceptable, but after putting the beer into a brown paper bag, now all was well. This sight of the young couple making out (and they were really going at it) would surely have invited commentary in America, but here, c'est la vie. While we call ourselves the "land of the free", other countries laugh at the thought and carry on with their lives uninterrupted.
The second interesting happenstance was that the bar proprietor lived in Bordeaux – our next destination – for 20 years before coming to Cassis. He lived right above the bar, so the view out his front window is literally that panorama above. He didn't speak English well, so I was forced to test out my French, and it didn't go half bad. He loves the weather in Cassis – other than January and February, it is pretty much sunny and 70 degrees year-round. In Bordeaux, he said to expect lots of rain, but I checked the weather report and it looks like we will somehow manage to avoid it, currently calling for upper 60's and full sun for the duration of our time there. The rest of the conversation was mostly just him listing off delicious wines to try while there. I had found quite a kindred spirit.
It was finally nearing 7pm and so we stopped by the nearest restaurant that Google awarded a 4.3 star rating to, L'Oustau de la Mar. We were the first ones seated and to get our orders in, good news since we were on a bit of a schedule. We got a bottle of 2013 Domaine du Paternel which was out-of-this-world, and, being literally right on the Mediterranean coast, I opted for the grilled sea bass without hesitation. This time, it was Cait's turn for a dinner of steak-frites. After some panna cotta for dessert, we paid our due and departed.
We made it up the hill and back to the station without issue, so we had some time to spare. Pretty much right at 10pm, the train picked us up. After a half-hour layover in Marseille again, soon we were on the train back to Aix-en-Provence. We arrived and walked back to the hotel, coming through the front gates just a few minutes before midnight.
There was still one thing left to do – we hadn't gone swimming in the heated pool yet. The hotel staff tried to talk us out of it, not for fear of noise or anything, just safety. But we both know how to swim well and there's two of us, so they eventually relented and opened the door lock to outside. We swam under clear skies, the night sky filled with stars, water perfectly warmed. After some time, we got out, toweled off, and after a few moments fireside back indoors, we were more than ready for bed.
---
Our last day in Aix-en-Provence, we got up on the early side, showered, and packed up our things. We checked out of the hotel and walked down to the train station by noon, soon to begin our 6+ hour train ride to Bordeaux, during which I finish this blog post. Ciao ciao Aix-en-Provence, your town (and those surrounding) are lovely, your weather perfect, and your people kind. We will certainly miss the southern French coast as we barrel forwards to our next destination!